Paris Transport, Services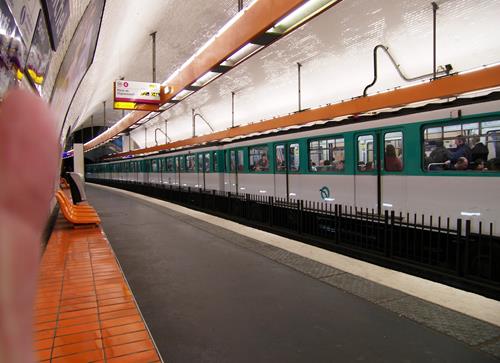 R.A.T.P.: RÉGIE AUTONOME DES TRANSP0RTS PARISIENS - Paris Transport Company.
S.N.C.F.- SOCIÉTÉ NATIONALE DES CHEMINS DE FER FRANÇAIS - French National Railways.
METRO - CHEMIN DE FER MÉTROPOLITAIN - city railway system R.E.R.
RÉSEAU EXPRESS RÉGIONAL - Regional Express Network.

Britain is an island: from London stations until recently you could catch trains only to other parts of the island.
But from Paris you can catch trains to places thousands of miles away. Most English people arrive at the GARE DU NORD.
From there you can go to the Channel Ports, Holland, North Germany and Scandinavia.
Down the street is the GARE DE L'EST; Trains to Berlin, Prague, Vienna, Budapest, Athens, Istanbul, warsaw, Moscow, Vladivostok and Beijing.
From GARE DE LYON you can go to Switzerland, Italy – on the Orient Enpress if you like
– or to the South of France on the TGV, one of the world's fastest trains.
From GARE D'AUSTERLITZ trains go to Spain and Portugal;
from GARE SAINT-LAZARE to Normandy, Brittany and the rest of France.
There are many other SNCF stations in Paris, serving the towns and villages of the Paris Region.
These are gradually becoming part of the R.E.R, a suburban commuter service, with more lines being built all the time.
The METRO is older, but here too new lines are being built, and every station is being modernised.
In the whole of Paris, you are never more than 500 metres from a metro station.
The fares are ridiculously cheap, as the price is the same wherever you go.
Tickets can be bought singly or in CARNETS. A Carnet is a set of ten tickets, costing the same as six bought singly.